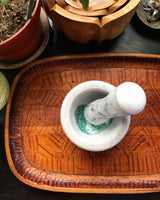 Unique homes need unique pieces.
Local wood and reclaimed wood turned into one of a kind statement pieces that each tells its own story. Rejected and damaged pieces destined to be firewood are hand turned with care and inlayed with ground minerals. Respecting the journey and essence of every piece, natural grains and scars dictate the shape and inlay patterns. Each piece is handcrafted in Albuquerque, New Mexico.
With a nod to the Southwest, sustainability meets craftsmanship and it's never looked so good.